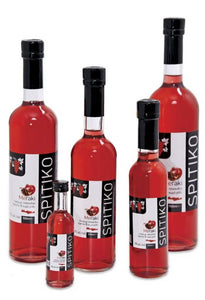 Raki with Pomengrate .
Tsikoudia from grape marc, collected from Cretan vineyards, with pomegranate juice.
Pomegranate has unique properties that give us health and beauty. The special antioxidant properties of pomegranate give us longevity, but also a unique glow. From ancient times the pomegranate is a symbol of good luck and fertility. Enjoy it with grated ice and a slice of lemon or just, frozen!
(18% alc./ vol.)