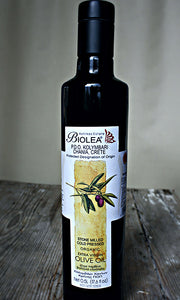 Biolea is a superbly balanced olive oil characterized by its mild, sweet taste, which enhances the flavour of dishes, never overpowering them.
Stone Milled & Cold Pressed
Biolea has been successful in the challenge of bringing the traditional olive oil production system up to today's food production standards by applying cutting edge technology and operating from a solid scientific base.
Olive oil produced with millstones and presses retains maximum nutritive benefits, and is distinguished by its mild, sweet taste. The traditional method is labour intensive and requires specialization and experience, nevertheless, Biolea is committed to maintaining and promoting this "slower" method because it produces superior quality olive oil.
High Phenolic
At Biolea we pride ourselves in the careful and simple cultivation, harvesting and production practices used to produce olive oil with the least amount of processing and damage to the flavor, aromas and health benefits the olive fruit has to offer. As a result, Biolea olive oil has a high concentration of antioxidants and health benefits, up to seven times more total polyphenols than the average olive oil. In accordance to European Union regulation 432/2012, the hydroxytyrosol derivatives that Biolea has, are over 5mg/20gr olive oil. A daily consumption of 20gr of Biolea protects the blood lipids from oxidative stress.