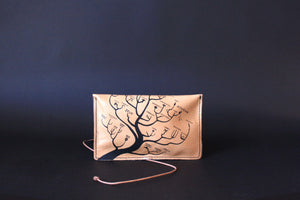 Portable leather pouch/purse/portfolio/envelope. Tobacco case made of Cretan goat leather. Silkscreen printed and sewed in our workshop.
Large size: 16.5 x 10 cm. 

Inspired by Ancient Greek art, Genealogical Tree of Gods:
The ancient Greek mankind, trying to explain certain metaphysical phenomena and anxieties, invented amazing myths concerning the Cosmogony (the creation of the World) and the Theogony (the birth of the Gods).
Thus, the ancient Greek people created their own splendid, yet human-like world of gods, justifying the various abstract significances like Love, Birth or Death.

Materials:
- Genuine goat Cretan leather, naturally tanned
- Top-quality Italian water-based inks
- Leather Cord