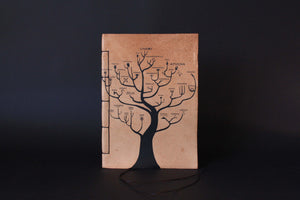 Leather Journal Notebook A5
Made of Cretan goat leather. The binding is done by hand with waxed thread. Each notebook has 80 pages of bone-white paper. Silkscreen printed.
It comes with a tab where the title for each portfolio Is written, and a text with information about the original artwork that inspired us.
Made in Athens, Greece.
Inspired by Ancient Greece, Genealogical Tree of Gods: 
The ancient Greek mankind, trying to explain certain metaphysical phenomena and anxieties, invented amazing myths concerning the Cosmogony (the creation of the World) and the Theogony (the birth of the Gods).
Thus, the ancient Greek people created their own splendid, yet human-like world of gods, justifying the various abstract significances like Love, Birth or Death.

Materials:
- Genuine goat Cretan leather, naturally tanned
- Top-quality Italian water-based inks
- 100 gr. A5 Paper EU Notebook (15.7 x 22 cm / 6.2 x 8.6 inch)
- Waxed Thread