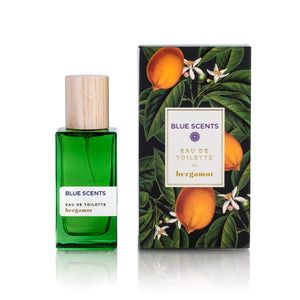 BLUE SCENTS Eau De Toilettes,
magnificent and timeless fragrances endowed by nature to delight the senses. Create your own passion link by selecting the Bergamot scent to express your style and character.
RARE AND FINE AROMATIC NOTES TO HIGHLIGHT YOUR CHARM
Aura that charms, fascination in the most delicate and discreet version, fragrance that emphasizes the uniqueness of personality and combines seductive power over time. Each BLUE SCENTS Eau de Toilette was born with these characteristics, blessed with notes of flowers from Mediterranean area and the world, will escort you in the most simple or special moments. The eau de toilette Bergamot with its bouquet of aromatic notes will fascinate you.
INGREDIENTS
Alcohol Denat*, Parfum, PPG-20 Methyl Glucose Ether, Glycerin, Aqua, BHT, Citral, Citronellol, Geraniol, Hydroxycitronellal, Limonene, Linalool.
*Φυτικής προέλευσης / Vegetable origin.