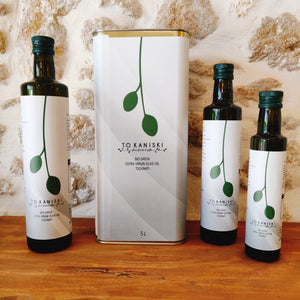 By choosing ''TO KANISKI'' extra virgin olive oil Tsounati  you have made a choice of a product made in the traditional Cretan way.The fruit of the olive oil is grown with care without chemical and chalk additives.
Tsounati variety of olives is mostly grown at the west of the island of Crete .
"TO KANISKI" extra virgin olive oil comes from virgin olive oil production and is of the highest quality.
In Case you need big quantities please contact  info@tokaniskishop.com
Acidity 0,32
Peroxide Number: max 6,032 mEq0/kg 
Waxes: max 250mg/kg 
K270: max 0,165
L232: max 1,88
ΔΚ: max 0,09
COLD EXTRACTION

Superior category olive oil obtained directly from olives and solelyby mechanical means.
Energy value: 824Kcal/3389kj
Fat: 91,6g of which 
*Saturates: 13,4g
*Manunsaturates: 72,5g
*Poliunsaturates: 8,8g
Carbohydrates of which
*Sugars: 0,0g
*Protein: 0,0g
*Salt: 0,0g
The product becomes cloudy at the temperatures below 10oC.

Keep in a cool and dry place.