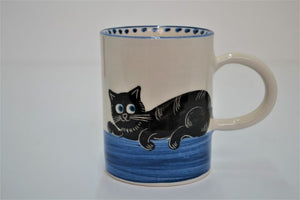 Attractive handmade ceramic cups created on the potter's wheel. It is entirely hand- painted with free brushstrokes, inspired by the Greek summer.
Glazed parts are without heavy metals therefore appropriate for food usage.
Safe for use in dishwasher with eco-friendly detergents, however, we do advise on hand washing for a longer life span.
Sudden changes in temperature (cold to hot) are likely to cause damage to ceramic objects.
Due to the nature of handmade objects there are likely to be slight differences in color, shape and dimensions.
Dimensions W 8 cm x H 10 cm