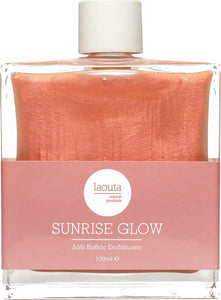 Sunrise glow is a dry oil with a rich composition of nourishing oils that moisturize the skin giving a natural pearly glow. It is a bright oil with a pleasant aroma of bergamot essential oils, vanilla and rose aroma.

​Apply on wet or dry skin
Elixiros flower extract: Elichrysos is very beneficial for the skin, helps promote healthy and glowing skin and cell regeneration. Powerful moisturizing blend: Olive oil, almond oil and apricot kernel oil are a powerful moisturizing blend of vegetable oils. Bergamot Essential Oil: Bergamot Soothes the skin and regulates oiliness.
 Ingredients:
helichrysum, olive oil, almond oil, coconut fractionated, apricot oil, avocando oil,mica.
slightly scented with bergamot, vanilla and rose. 
100% Natural product, handmade in Greece
No synthetic colors, perfumes, preservatives.